history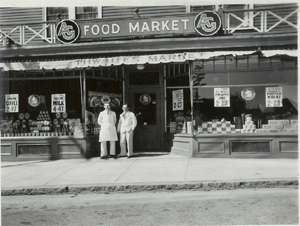 About the year 1915 my father, who had been working with steel most of his life had lost his eye sight. For years my mother did house work for a few people around town, but in order to help support her husband and six children, she bought a boarding house in North Andover. One day a salesman for Currier Food Company of Lawrence called to sell her food supplies, he then talked her into starting a store. She was able to do this by transforming a pantry, which was about 9x12 feet with shelves on both sides into a market.
We started selling canned goods, bread and milk with other assorted foods. There was also a candy salesman coming to the market, he was able to talk my mother into buying a new store on 39 Oakland Avenue. She thought it would be a good idea to give my brother Charles and me a job. Buying the store would also give our older sisters Emma and Florence and our younger sister Edna work as well, and that was the beginning of Thwaites Market.
Now when we moved to Methuen, the former owner of the market agreed to stay on for one month to show us how to cut meat and run things. In the meantime, my father who had gone blind traveled to Portland to learn to make brooms. We made a shop for him under the store, he was able to work by himself and make brooms for a living.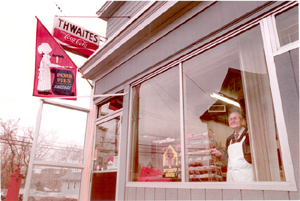 After the month was up and the former owner left, we had a hard time cutting meat. My mother and I cut all the meat by ourselves; it was very difficult so we finally had to get another man to help us. My mother hired a former chain store manager to try and make things easier, he lasted a very short time. We could do better ourselves.
In the meantime, we bought a ford truck to make deliveries in. In the morning we would go to the customers and get their orders, and then deliver them in the afternoon. We bought a horse and wagon so my brother, who was too young to drive the truck, could do deliveries as well. Charlie would also do work at the chicken farm that my parents bought in Salem, New Hampshire. He would work at the store in the morning and go to the farm in the afternoon. After a few years business was picking up, we asked the owner of the building if he would sell it to us, however he refused.
We then made plans to build this market on 36 Railroad Street, directly across from this current market. We were able to do this with help of the Methuen Cooperative Bank. After it was completed, we had the store laid out to be one of the first self-service markets around. We had opened shelves on both sides, vegetables in the center, with the check-out counter and dairy case in the middle. Along the back was the meat case with a walk-in chest along the side. We had a kitchen to the right where we made homemade pork and tomato sausage, pork pies, home cooked ham and homemade beans.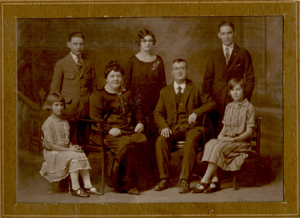 Through out the next forty years, most all of the Thwaites' children and grandchildren worked in the store at some point or another. Thomas Thwaites became the sole proprietor in the late 1950s. We continued to deliver orders up until the Vietnam War. We had to stop because Kenny was called into service, we didn't have enough help to run the store and run deliveries at the same time. However, like it still is today, we would still put up orders for those who would call ahead, and have them ready for pickup!
When Kenny returned from the Vietnam War, he started working in the store right away. With his return, we expanded the types of pies we created. We had to buy two brand new pie presses from England to help us keep up with the ever growing pork pie business. From then on Thwaites pork pies started to sell! In the old method, we could only make about seventy or eighty pies a week. But with the new machines, we can't even tell you how many we make in a day, never mind a whole week!
This was a letter written by Thomas Thwaites, he has since passed on, but his love for English foods, great customer service, and most importantly his hard working family still lives on. There are many times through out the year where you can find up to four generations of family working at the market. You can also find one of Thomas's daughters Barbara Greenwood minding the oven or making sausage at the age of eighty. We are proud to say that at one time or another, almost everyone in our family has put their share of hard work into what the store has become today.
Kenneth is still running the store where the English Pork Pie has transformed into thirty different varieties. But after many recipes, a few hard falls, and tens of thousands of customers later, Thwaites Market is still and will always be the small family business on the corner of Oakland Ave. and Railroad Street.